Verve Laser & Med Spa is PERMANENTLY CLOSED.
Therapeutic Body Concepts is Operating out of the same location but is not affiliated with Verve.
Laser Skin Tightening Treatment
Wrinkles: Decoding the Handwriting of Time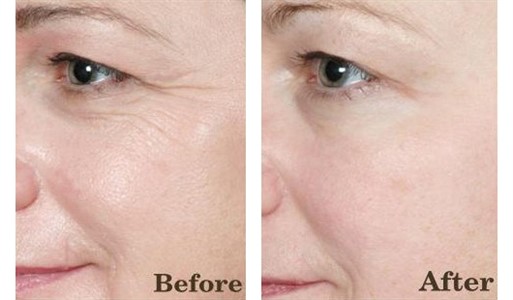 Laser Skin Firming Facial
Ideal for targeting the signs of aging such as sagging under the eyes & brow lines.
Collagen production is stimulated, restoring your skin's youthful elasticity and creating results that improve over time.

Though we notice wrinkles when they pop up on the surface of the skin, they originate deeper below. Underneath the visible, epidermal layer is the dermal layer, which is where the aging action begins. That's because it's the source of elastin and collagen, the duo of proteins responsible for keeping skin springy and firm. Humans naturally stop producing collagen and elastin as they age, and this phenomenon, coupled with the skin's increasing inability to retain moisture, is largely responsible for wrinkles. Without collagen, elastin, and water, skin doesn't readily spring back after it's folded by a smile, a frown, or the one expression of fear that seems to make that dog stop barking at you. It also loses its deep structural support, resulting in the sunken appearance that characterizes deeper wrinkles.
While genetics play a large part in determining the onset and severity of wrinkles, outside factors make a big difference in the number of lines that crisscross a given face. Of these, sun exposure is perhaps the most dramatic. Even setting aside the unpleasant visible and tangible effects of sunburn, researchers have found that UV light actually damages the ability of dermal cells to produce collagen. It's no surprise, then, that the most effective wrinkle treatments work to kick collagen production back into gear, whether by applying the form of vitamin A known as retinol or by prompting tissue regeneration via the kind of microscopic, controlled tissue damage made possible by laser treatments.
Return to Top
Service Policy