Our commitment to quality and service ensures that our clients have a great experience every time they enter our spa!
With years of experience and continuing education, our dedicated staff is ready serve you and your beauty needs. We will help you decide the best look, and deliver just the right services to achieve it. Our comfortable, relaxed atmosphere is designed to make you feel great! Come see us soon.

BOOK APPOINTMENT
Laser Skin Tightening Treatment
Wrinkles: Decoding the Handwriting of Time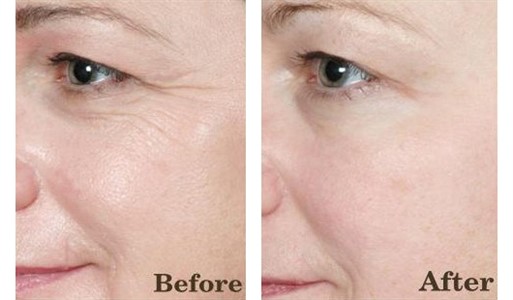 Laser Skin Firming Facial
Ideal for targeting the signs of aging such as sagging under the eyes & brow lines.
Collagen production is stimulated, restoring your skin's youthful elasticity and creating results that improve over time.

Though we notice wrinkles when they pop up on the surface of the skin, they originate deeper below. Underneath the visible, epidermal layer is the dermal layer, which is where the aging action begins. That's because it's the source of elastin and collagen, the duo of proteins responsible for keeping skin springy and firm. Humans naturally stop producing collagen and elastin as they age, and this phenomenon, coupled with the skin's increasing inability to retain moisture, is largely responsible for wrinkles. Without collagen, elastin, and water, skin doesn't readily spring back after it's folded by a smile, a frown, or the one expression of fear that seems to make that dog stop barking at you. It also loses its deep structural support, resulting in the sunken appearance that characterizes deeper wrinkles.
While genetics play a large part in determining the onset and severity of wrinkles, outside factors make a big difference in the number of lines that crisscross a given face. Of these, sun exposure is perhaps the most dramatic. Even setting aside the unpleasant visible and tangible effects of sunburn, researchers have found that UV light actually damages the ability of dermal cells to produce collagen. It's no surprise, then, that the most effective wrinkle treatments work to kick collagen production back into gear, whether by applying the form of vitamin A known as retinol or by prompting tissue regeneration via the kind of microscopic, controlled tissue damage made possible by laser treatments.
Return to Top
Service Policy
The Spa Services We Offer in Sherwood Park
Whether you need a day to relax or you have a special occasion coming up, visit Verve Salon & Spa Ltd. Get anything from a pedicure to a massage done by certified and licensed professionals, all under one roof.
Comprehensive Care
As a full spa services business, Verve offers almost everything, including:
Skin services: We rejuvenate and perfect skin of all types through facial treatments, body wraps, and exfoliating scrubs. We also offer permanent makeup application by experienced technicians.
Nail service: Come to our nail technicians for manicures and pedicures, gel nails, and custom nail art.
Whole-body health services: Pamper yourself with massages, waxing, or lazer hair removal. Additionally, we offer weight loss coaching and men's grooming consultations.
Special services: We host all kinds of special events, including makeovers, diva parties, couples' and group nights, and wedding parties.
Aesthetic services: Our beauty experts can assist you with makeup artistry, lovely eyes services
Billing Direct to Blue Cross for Massage Services.
Open Appointments
To make an appointment for any one of these services, call us now at (780) 416-2700. Visit us at our location at 11 Athabascan Ave., Suite #152 in Sherwood Park. By Appointment Only.
To ensure prompt service book appointments by phone or online . If you need to cancel an appointment we appreciate at least 24 hours notice.

No shows may be subject to payment in part or in full at the discretion of management.