Our commitment to quality and service ensures that our clients have a great experience every time they enter our spa!
With years of experience and continuing education, our dedicated staff is ready serve you and your beauty needs. We will help you decide the best look, and deliver just the right services to achieve it. Our comfortable, relaxed atmosphere is designed to make you feel great! Come see us soon.

BOOK APPOINTMENT
Permanent Makeup/Micro Blading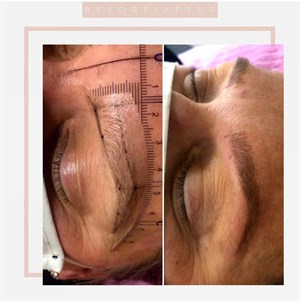 Microblading -Not Avaliable
Microblading is a manual method, semi permanent makeup technique.
The results are natural, hair-like strokes done with a very fine blade into the epidermis. Because the color is closer to the surface, the strokes appear crisp and very fine. Sparse or missing brows can be completely restored. The cut is as fine as a paper cut and can hardly be distinguished from real hair.

Initially the brows will appear darker then fade significantly over 2 weeks as they heal. It is absolutely crucial to have a touch-up done in the following 4-6 weeks after, as it is difficult to predict how well the skin will retain the pigment color. The results can last anywhere between 1-3 years.
Touch-up after 6 weeks to 1 year - $200.00
*Book your free consultation to see if Permanent Makeup is right for you
Micro-pigmentation, also called "permanent make-up," creates long-lasting effects by inserting pigment beneath the top layer of the skin into the dermal layer. This process has been around for hundreds of years in many different cultures. Today, you receive the benefit of state-of-the-art technology, highest-quality products, and single-use equipment for the safest, professional results. You will look your most beautiful 24 hours a day, even when you are just out of bed, swimming or exercising. You can enjoy all-out glamour, a natural enhancement, or something in between.
All colours are custom blended to suit your own colouring and personal preferences. During the consultation, the results are drawn on your skin allowing you to make adjustments and ensure you're getting exactly the right look before committing. Micro-pigmentation has tremendous self-esteem benefits for people who have visual or physical impairments, pigmentation disorders, hair loss, scars, or just want to look their best without investing time in putting on make-up.

Enjoy perfect Liner all the time.
Service Policy
The Spa Services We Offer in Sherwood Park
Whether you need a day to relax or you have a special occasion coming up, visit Verve Salon & Spa Ltd. Get anything from a pedicure to a massage done by certified and licensed professionals, all under one roof.
Comprehensive Care
As a full spa services business, Verve offers almost everything, including:
Skin services: We rejuvenate and perfect skin of all types through facial treatments, body wraps, and exfoliating scrubs. We also offer permanent makeup application by experienced technicians.
Nail service: Come to our nail technicians for manicures and pedicures, gel nails, and custom nail art.
Whole-body health services: Pamper yourself with massages, waxing, or lazer hair removal. Additionally, we offer weight loss coaching and men's grooming consultations.
Special services: We host all kinds of special events, including makeovers, diva parties, couples' and group nights, and wedding parties.
Aesthetic services: Our beauty experts can assist you with makeup artistry, lovely eyes services
Billing Direct to Blue Cross for Massage Services.
Open Appointments
To make an appointment for any one of these services, call us now at (780) 416-2700. Visit us at our location at 11 Athabascan Ave., Suite #152 in Sherwood Park. By Appointment Only.
To ensure prompt service book appointments by phone or online . If you need to cancel an appointment we appreciate at least 24 hours notice.

No shows may be subject to payment in part or in full at the discretion of management.